Serving Clients in Warren County and Surrounding Areas
Full-Service Vicksburg Law Firm
Teller, Hopson & Schrader, LLP is a full-service law firm, located in historic downtown Vicksburg, Mississippi.
The firm has five lawyers who practice in diversified subject areas, each taking an active role in the Mississippi Bar Association, the Warren County Bar Association, and the American Bar Association.
Counsel for Individuals, Businesses, and Government
We represent several large local companies, banks, school boards, and medical providers as well as individual members of the firm's community in both plaintiff and defense cases. Several attorneys are approved attorneys for First American Title Insurance Co., Security Title Insurance Company, and Mississippi Valley Title Insurance Co.
As one of Mississippi's oldest and most well-respected law firms, Teller, Hopson & Schrader, LLP, has long been recognized for its commitment to excellence in serving its clients and practicing the law.
One of Mississippi's Oldest Law Firms
Trusted for Over 150 Years
Our firm has a rich history of serving the people of Vicksburg, Mississippi and the surrounding areas since 1866. The firm began as Pittman & Pittman, and over the years, it evolved through several successor firms, including Hirsh, Dent & Landau, and Dent, Ward & Martin.
In 1990, the Dent, Ward & Martin firm merged with the law firm of Teller, Chaney & Derivaux, which had been serving the community since 1930 as Vollor & Teller, and later as Vollor, Teller & Biedenharn. The merged firm became Teller, Martin, Chaney & Hassell, then Teller, Chaney, Hassell & Hopson, followed by Teller, Hassell & Hopson, to its present name of Teller, Hopson & Schrader.
Committed to Excellence
Today, the firm bears the name Teller, Hopson & Schrader, LLP. Our firm's long and storied history speaks to our commitment to providing unparalleled legal representation to Mississippians for generations.
We are proud to carry on that tradition of excellence and bring our clients the same level of expertise and dedication that has been the hallmark of our firm for over a century and a half.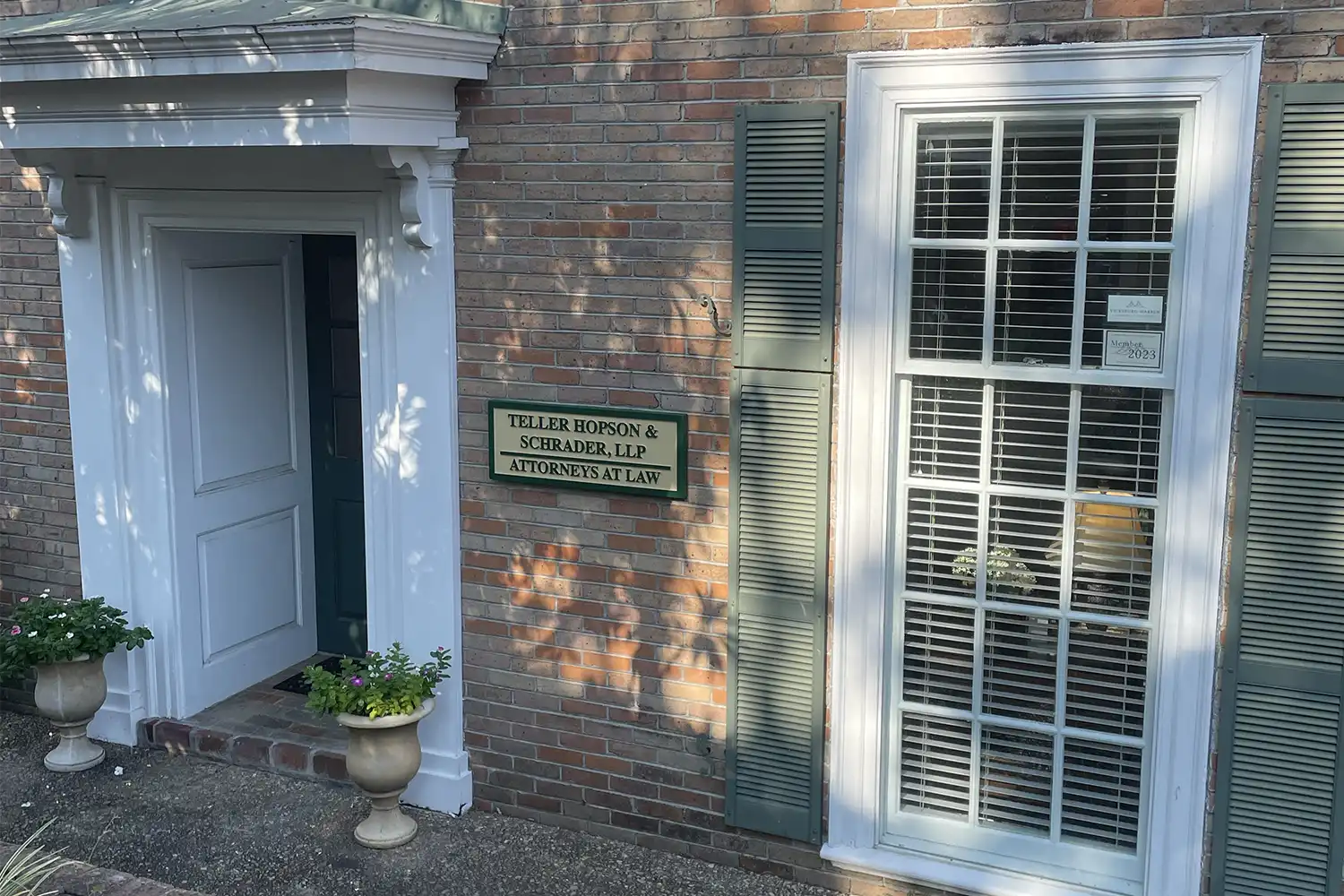 Our Core Values
Client-Focused Service
Our clients are at the center of everything we do. We listen to their unique needs and goals, and we work tirelessly to achieve the best possible outcomes for them.
Excellence
We are dedicated to excellence, constantly refining our expertise and staying informed of the latest legal developments. We strive to provide our clients exceptional legal services at a reasonable and equitable cost.
Collaboration
While each of our attorneys has their own unique specialty, we believe that collaboration leads to superior results. By working together, we provide our clients with the most comprehensive and effective legal services possible.
Respect
We treat everyone with respect, regardless of their background, beliefs, or opinions. We value diversity and inclusivity, and we believe that everyone deserves to be treated fairly and with dignity.
Compassion
We understand that our clients are often going through difficult times, and we approach every case with empathy and understanding. We treat clients the way we would want to be treated.
Family
We treat each client like family. From our warm, welcoming office to our friendly, attentive team members. We believe being relatable and easy to talk to helps us understand your unique needs and goals for better outcomes.
Community Involvement
Aside from the firm's professional work, our main obligation is to family and community. We support spiritual and civic activities and encourage participation in such endeavors.
Proud Members of the Vicksburg Community
Proactive Community Leaders
We believe that by working together, we can make a positive impact on the communities we serve. Our attorneys are actively involved in civic, professional, and philanthropic activities, and we encourage our staff to do the same.
Several of our attorneys have held leadership positions in a variety of local organizations including:
Warren County Chamber of Commerce
United Way of West Central Mississippi
Rotary Club of Vicksburg
Vicksburg Kiwanis Club
Making a Difference
We actively support local charities and organizations that share our values and are dedicated to improving the lives of those in need. By contributing our time, talents, and resources to local charities, we hope to make our community a better place for everyone.
Our commitment to community service includes support for organizations such as:
United Way of West Central Mississippi
Vicksburg Convention and Visitors Bureau
Southern Culture Heritage Foundation
Good Shepherd Community Center
Haven House Family Shelter
Child Abuse Prevention Center of the Exchange Club of Vicksburg
Visiting Our Office
We strive to make your experience as comfortable and stress-free as possible from start to finish. Our office is conveniently located one block from the Warren County Courthouse in the historic Nogales Building in downtown Vicksburg, Mississippi.
When you visit us, we provide free parking, comfortable seating areas, and private conference rooms where we can discuss your case in a confidential setting. We are also happy to accommodate clients who are unable to visit us in person by hosting virtual consultations or meeting with them off-site.